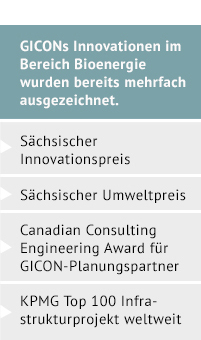 Biogas technologies for future-oriented and affordable energy generation
Whether you want to process organic waste or energy crops, structure-rich or liquid feedstocks, household waste or commercial wastes - GAET offers in each case the optimum biogas technology in conjunction with an adapted feedstock pre-treatment. Products of the fermentation process are, on the one hand, energy in the desired form as either biomethane or electrical energy and heat realized by combined heat and power (CHP) systems, or on the other hand conditioned digestates for further utilization.
Biogas plants and infrastructure from a single source
GICON develops, engineers and realizes biogas plants as a general contractor or technology provider and can draw on experience from the construction of over 30 plants. From concept and design to permitting beyond to commissioning and optimization of operation, the client will receive expert services from a single source. In this way, GAET delivers optimal process and system solutions for each client's initial situation. Smaller plants can also be operated profitably and efficiently.
The result is a future-oriented energy that is safe, environmentally friendly, flexible and inexpensive to use.